Steel Rule Dies
Utilizing the latest in CAD and Laser technologies to engineer press-ready, high-efficiency steel rule dies.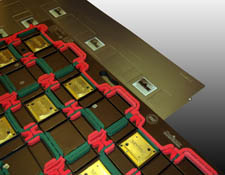 Lasercut base material choices include a range of economical woods or maple. Polymer Laminated birch provides a moisture proof surface that is oil and dirt resistant.
Polymer Laser Bases are required when greater strength and durability are important such as when using a milled 1 mm steel counterplate. Options include Polycore and Rayform materials.
We utilize the ELCEDE CimLine Rule Processing System to fabricate bent rules with unmatched accuracy and repeatability. Reverse Half Cutting, reverse creasing and simultaneous Embossing while Diecutting are just some of the special capabilities possible with tooling from Synergy TSI. Prenicking and profile Water-Jet Cut Ejection Rubbering insure a truly press-ready finished production die.
Our production dies can be designed to cut and crease small flute corrugated cuts from the print side enabling corrugated boxes to fold for gluing and filling with the same accuracy and repeatability as folding cartons.
Using our steel rule dies result in greater diecutting productivity– not just in cutting and creasing but also in stripping and blanking.