Counterplates– Phenolic & Steel
Synergy TSI precision-cut counterplates result in more exact carton folding for gluing and filling.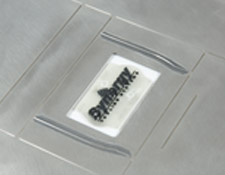 CNC individual Phenolic Counterplates are an economical solution that insures that all carton positions fold exactly the same. Phenolic counterplates can include flexible backings that make them easy to remove and reinstall using Synergy aluminum counter pins. Phenolic counterplates can be mounted on 1 mm cutting plates and easily reused on future runs.
Milled 1 mm Steel Cutting Plates are perfect for long running repeat jobs. Reuse is especially easy when used in conjunction with the Bobst 1 mm cutting plate micro-adjusting hardware. The use of milled 1 mm steel counterplates allows creasing and embossing to occur below the level of cutting, resulting in more efficient sheet movement and less sheet tension which significantly reduces sheet draw, excessive carton nicking and carton flaking.