Blanking Systems
Blanking Tool Sets from Synergy TSI are effective in both folding carton and corrugated applications.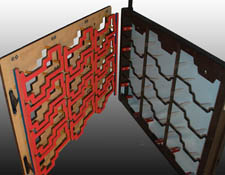 Blanking Tools from Synergy TSI are prepared to Bobst factory specifications and are shipped ready to mount. Custom All-Steel Lower Blanking Frames from Synergy, designed for single knife layouts and repeated long runs, are the industry standard.
Synergy's exclusive full-scale Mylar Blanking Template allows the press operator to quickly and correctly position the custom steel blanking frame during setup.

Flat-Top Lower Blanking Frames are ideal for double knife layouts. Flat-top tooling can be mounted on reusable BSI Frames or used with the Bobst universal lower blanking frame.
Custom Steel Support Rails can be integrated under the flat-top tool to provide needed support in restricted areas.
Synergy can engineer a combination blanker that includes both flat-top and custom steel components for difficult-to-blank layouts.
Upper Blanking Tools are designed to include either BSI flush or tower pressers.