Counterplates
Synergy TSI precision-cut counterplates result in more exact box folding for gluing and filling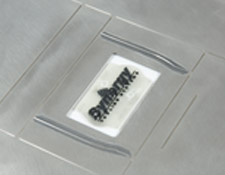 CNC individual Phenolic Counterplates are an economical solution that insures that all box positions fold exactly the same. Phenolic counterplates can include flexible backings that make them easy to remove and reinstall using Synergy aluminum counter pins. Phenolic counterplates can be mounted on 1 mm cutting plates and easily reused on future runs.
Small flutes such as E & F flutes can be cut and creased from the print side using Synergy TSI counterplates designed with narrow bead creasing. Narrow bead creasing reduces the occurrence of one-sided folding of scores and results in more exact folding for gluing and filling.
Counterplates also work well with B & C flutes when cutting toward the inside of the box.